B.B. KING ONCE SAID THAT PLAYING THE BLUES WAS LIKE HAVING TO BE BLACK TWICE. "STEVIE RAY VAUGHaN MISSED ON BOTH COUNTS, BUT I NEVER NOTICED," HE CONCLUDED. THE SAME CAN BE SAID OF MIKE REILLY, WHO'S PLAYED WITH BOTH B.B. KING AND STEVIE RAY. MIKE MAY NOT BE BLACK, BUT HE KNOWS THE BLUES, AND HE'S BEEN PLAYING THEM FOR A LONG TIME. LIKE MUDDY WATERS–ANOTHER LEGEND MIKE'S SHARED THE STAGE WITH–HE'S STILL DELIVERING 'CAUSE HE'S GOT A LONG MEMORY.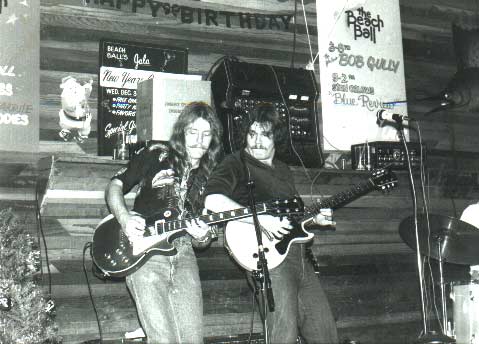 Mike grew up in Fullerton, California during the sixties and seventies. He remembers the night his father, Robert, a Fullerton cop (and guitarist who used to jam with Django Reinhardt), accidentally busting up his drum kit. To replace the drums, his dad bought his nine year-old son a trombone. Musically precocious, in no time Mike was second chair in the school orchestra.
Mike remembers his first Rock album–The Allman Brothers Band ('69). And he remembers when, the following year, he bought an album that totally changed his life–Freddy King's Getting Ready. Mike, now thirteen, wasready-ready to play the Blues. (Mike was sitting in with the likes of Joe Cocker and The Pointer Sisters before he was old enough to be in a club.)
Sadly, Mike also remembers losing his big brother Bobby, a talented musician who died in 1980. Although there have been other musical influences in his life-from Duane Allman to Bill Champlin–none was more important than his brother Bobby.
That same year, Mike got into the Sharpshooter Band, that gig led to Elvin Bishop, and from Elvin came gigs with Blues giants James Lee Hooker, Dr. John, Muddy Waters, Willie Dixon, BB King, Stevie Ray Vaughn, Albert Collins, Billy Gibbons and The Band.
Mike has had the rare opportunity of playing with most of the musicians who influenced him. Maybe this is why he sometimes refers to himself as the Forrest Gump of Rock. He's released four albums as The Mike Reilly Band and these days He continues to perform with an All-star line up.
1980
Mike, Jaimoe Johnson and Lamar Williams, The Sharp Shooter Band (Allman Brothers Band, Sea Level). This would be the first band to take me ON THE ROAD!! No matter what happened to this group, be it timing or fate, this was a very, very BAD BAND. I can't describe the feeling I had when I got the gig. To be in a band with the players I had spent hours and days trying to be like…. what a trip. Lamar, Jaimoe and Wayne Sharp came to my house to give me the news. What a party-whew!! What an honor.
1984
And on to the next person who taught me more about the blues guitar. Someone who has been a good friend for many years, Elvin Bishop. This would be my version of boot camp for the blues, have mercy. I met most of my mentors through Elvin,. B.B. King, John Lee Hooker, Billy Gibbons, Albert Collins, Stevie Ray Vaughn, The Band. My first official night in the band we played the Lone Star in New York City. As I took the stage, shaking with fear, I noticed the surviving members of Lynyrd Skynyrd in front of me. They stayed, watched, yelped and yelled. I did my best to put on a good show. We talked after the show. I soon learned that there was a kinship between all these bands. They were there to support us. It was the dark ages of Southern Rock, the Eighties!! I was ever grateful I never had to wear spandex pants and big hair or make up. If you played our genre of music you were family. While on a tour of the Keystone Clubs, three clubs in the bay area that were famous for late night jams, we had a triple bill, Gregg Allman Band, Elvin Bishop Band and a new kid from Texas, Stevie Ray Vaughn. This would be a magical time, for some reason Mr. Allman and I hit it off right away.
1987
My days were numbered at Elvin's camp and it was on Gregg's suggestion that I might try my own band.
It was the mid 80′s when Jani and I moved to a small community in the Southern California mountains called, Silverado.
It would be here that we would get investors to do my first CD. Most of my band lived in town and we would rehearse on an old ranch called, Wild Cat Ranch. Gregg stayed with us a few times a year. Due to his friendship, I was given an opportunity to be a guest on several Gregg Allman Band dates. He would in turn come and do shows with me as my special guest.
1990
It was a great time in my life, I just wish I could have remembered a little more!
Gregg hired us to back him up in 1990-1992. Not a lot of shows, but some of the best gigs I've ever done. I give nothing but thanks to Gregg. He's a true gentleman and possesses a God-given talent.
I visited with him, for a minute this year (2001), in Asheville, North Carolina. The band sounded great and Gregg looked great. I think he's found true happiness. I'm not exactly sure why our paths crossed, I'm just grateful they did.
The Luck of the Irish continued. Once again, from a late night jam at the Keystone SF, I hooked up with The Band and Garth Hudson.
A friendship that's continued for years, Garth and I hit it off the best. He would join my band for the summer, and in return, hired me to do shows with Rick Danko, Dr. John, Gary Busey, and Clifford Scott. Some of the shows were magic, some weren't!
1995
I can't begin to thank Garth for all the times he's put out for me. On a sadder note, I will miss Rick greatly. His smile and haunting voice are still with me. They were a band like no other!
Another offshoot branched from this band: The Reilly-Bennett Review. Garth on sax and keys, Gerald Johnson(Steve Miller, Dave Mason, Crosby Stills and Nash) on bass, Sean Finnigan, keyboards and Jan Ashley, with Jon Hurley, on drums and percussion.
I met Wayne while in Memphis at a demo session that Joe Walsh was doing for me. Wayne was the fellow who taught Duane Allman "Stormy Monday", and it was him with Bobby Blue Bland.
He was also on the balcony with Dr. Martin Luther King when he was murdered. Some of the greats have considered him to be the MAN! Billy Gibbons (ZZ Top) is a big fan of Wayne's, not to mention Eric Clapton.
When he left us, he was only 52. I cant express how sorry I felt for his family and for the world.
Once again, Wayne, Many Thanks!!
During the mid nineties, I reunited with the Toler Brothers. We toured the east coast, the northwest and dates in Korea. It was great seeing them and I wish them the best.
1999
While sitting in San Juan Capistrano with my roadie having a sandwich, a new tour bus pulled up and Doug Gray got out, to my surprise. He said he was wondering what I had been doing and asked if I'd be interested in playing with them at the Charlie Daniels Volunteer Jam. A jam took place with Elvin and Toy Caldwell. It was very cool.
2005
The Mike Reilly Band released the album "Reilly's Road" with an All-Star Reunion Lineup. Danny Ott on guitar, Calvin Hardy on bass, Sean Finnigan on keyboards, and last but certainly not least, Mark T. Williams on drums. This is the line-up that backed Gregg Allman, Garth Hudson, and a long list of other nefarious characters!
2010
The Mike Reilly Band released the album "Reilly's Road" with an All-Star Reunion Lineup. Danny Ott on guitar, Calvin Hardy on bass, Sean Finnigan on keyboards, and last but certainly not least, Mark T. Williams on drums. This is the line-up that backed Gregg Allman, Garth Hudson, and a long list of other nefarious characters!
TODAY
Grateful to be doing what I love for over 35 years, Jani and I have a home in Oceanside, CA. Still touring throughout california with The Mike Reilly Band, I'm enjoying playing in a few new side projects, more details to be announced soon.
For booking inquiries, or to add photos or video to the Mike Reilly Band archive, please contact us.